Coconut chutney, Kandi Podi & Karvepakku Podi (Gunpowder)
Coconut chutney, Kandi Podi & Karvepakku podi (Gunpowder) are accompaniments to Idly, Dosa, Rice or most South Indian recipes. Today's post is in continuation of yesterday's Idli one. Sharing with you the recipes of Gunpowders and Coconut chutney or dip.
My first few memories of childhood are hazy but my taste buds still salivate when I think of the Gunpowder (because it is spicy) and rice that I ate as a kid. The only other neighbours in our street were a Brahmin family, Uncle who was an RMP, aunty and their four daughters.
All of us siblings were usually found at their place at lunchtime. Aunty used to make us sit in a semi-circle. She would take a big plate with a huge mound of rice.  A generous drizzle of ghee over it and mix the yummiest Gunpowder (Kandi podi) in it and make round balls of it. From youngest to oldest we were all given one mudda( a  round morsel of rice). It used to be nice and spicy and the ghee would make it more appetizing and tasty.
I remember my mom always complaining that the food at home was wasted when we didn't turn up for lunch and instead ate the mouthwatering fare from aunt's hands. After the podi rice it would be some pacchiddi (pickle); Fresh avvakaya (mango pickle) if it was summer or tomato in winter. Next would be some koora (vegetable)-bendakai (okra) fry or dondakai veppuddu (coccinia or gherkins), after which, a pulusu, pappu chaaru and finally curd rice with nimmakai pacchiddi (lemon pickle). Those were the days!! Sigh!!
The humble podi is nutritious, healthy and full of goodness.Dals are full of minerals and proteins. Curry leaves or karvepakku in telugu and karripatta in hindi is an aromatic leaf common in tropical lands. Almost every home in Andhra has this plant growing in their home as it is used extensively in their cooking. I love the smell of karveppakku( curry leaf) and I just pluck a leaf and crush it in my fingers so that the smell lingers on my hand for a long time. Curry leaves are a good source of Calcium, Energy, Proteins, iron, magnesium and Vitamin C.
I have seen many people, picking out the curry leaves while eating and putting them aside in their plates but I just love the leaves and chew them up as they are tasty and full of iron. I grow it in my backyard and make the podi out of fresh leaves I pluck myself!
Karveppakku podi or Curry leaves powder
Variation – You can prepare this podi without chana dal also and also make chana dal podi
Ingredients :
Curry Leaves-2 cups (washed and dried)
Roasted Coriander seeds ½ cup
Dried and roasted red chillies 1 cup
Roasted cumin seeds 2 tbsp.
One ball of tamarind
Little oil
Rock salt to taste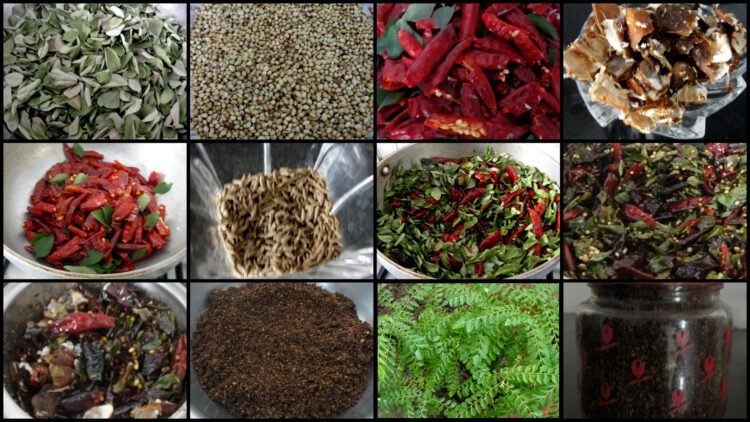 Dry roast all the ingredients and then sauté once in a little oil. Blend in the mixer and your powder is ready to use. Store in a glass bottle and it lasts for many days.
Paruppu Podi (lentil powder):
Ingredients:
Tur dal (pigeon peas split and skinned)- 1 cup
Roasted chana dal(Bengal gram)-1/2 cup
Garlic – 1 full pod
Jeera/Cummin seeds – 1 tsp
Red chillies – 25
Hing(Asafoetida) – 1/4 tsp
Curry leaves – few
Rock Salt as required
Oil -1/4 tsp
Method:
Heat the oil and roast the curry leaves as they are wet from washing, then add the whole red chillies, then the tuvar dal, jeera and when golden brown add the roasted chana dal and garlic at the end…..add the hing and add rock salt. Blend all the ingredients in the mixer. Store in an air-tight container and use it for the next few days. This podi is very delicious with hot steamed idli, rice, spread liberally inside a dosa, or a rolled paratha (flatbread).
Coconut Chutney
Now it is the coconut chutney. In India, coconuts are offered to God in almost every temple. The priest will keep half and the other half he returns as Prasad. When I was a kid, there was this restaurant just a few hundred meters away from my house. The chutney served there was always very yummy and it never tasted the same at home. We were regulars there and there were takeaways every other day. Once I asked the steward-What is the secret to the tasty chutney in your hotel? He replied," We use the coconuts left over at the temple and thus are chutney tastes divine!"  And I actually bought that answer! Now I know better!
Coconut chutney is on the sweeter side and neutralizes the spicy sambar and podi. Coconut is sweet and you add a couple of green chillies to make it a bit spicier.  Roasted Bengal gram is added to sliced coconut and made into a paste. Add a little milk and the taste gets enhanced. Coconuts are easily available in the coastal areas. It should neither be too ripe nor too fresh. Shake the coconut to see if there is water inside. If there is water then you can buy that for chutney. It is good to be eaten raw too.
Ingredients:
½ coconut, peeled and sliced finely
¼ cup roasted chana dal
2 green chillies
2 spoons milk
Salt to taste
For the tempering:
1 tsp oil
2 dry red chilles split
1tsp Bengal gram or chana dal
1 tsp mustard seeds
Few curry leaves
Method:
Take the coconut, dal and green chillies in the mixer jar. Add a little water and make a thick paste. Remove into a bowl and add salt and milk. Mix thoroughly. Take a small pan for tempering…heat the oil and add the dry red chillies, then add the dal, once they are a bit done then add the mustard seeds. Once they splutter, add the curry leaves and pour over the coconut paste. Your chutney is ready to eat with idli.
This chutney can be stored in the refrigerator for a couple of days or more if in the freezer. It goes extremely well with idli, dosa, uttapam, masala paniyaram,upma, vada. I like it with steamed rice too.
Look forward to the Sambar recipe tomorrow. The sambar recipe is here and the dosa, egg dosa, rava dosa, idli too.
These chutney, podi and sambar are accompaniments to other dishes like appe. sooji paniyaram, stuffed idli, button idli.