Travelogue on Kashmir|Doodhpathri #BlogchatterA2Z
Have you heard of Doodhpathri in Kashmir? No? Then let me take you on a tour of paradise with this Travelogue on Travelogue on Kashmir|Doodhpathri #BlogchatterA2Z. Tourists visiting Kashmir explore the time-tested places on the tourist map; Srinagar, Gulmarg, Pahalgam, Sonmarg. But there is more to explore and I like to tread the road less travelled.  One name that came popping up in conversations was Travelogue on Kashmir|Doodhpathri #BlogchatterA2Z. The name itself was intriguing; it means Valley of Milk and is only 42kms from Srinagar. I had my eyes set on Doodhpathri! Another scenic getaway in the Himalayas is Landsdowne.
Drive to Doodhpathri
I hired a cab and next morning set out alone to this lesser-known place in Kashmir. Every journey even in a car is overwhelming here as the terrain is so amazing. It took a little time to step out of the city and onto the highway and even then there were many interesting towns on the way; Srinagar to Budgam, Budgam to Khansahib and Khansahib to Doodhpathri via Raiyar. The climb upwards was a bit dizzying and I wondered what I would see at the end of all those steep hairpin bends. It took me around 2 hours to get there as I would stop at every walnut tree and apple orchard that was insight or any other interesting thing en route.
Pristine Valley in Travelogue on Kashmir|Doodhpathri #BlogchatterA2Z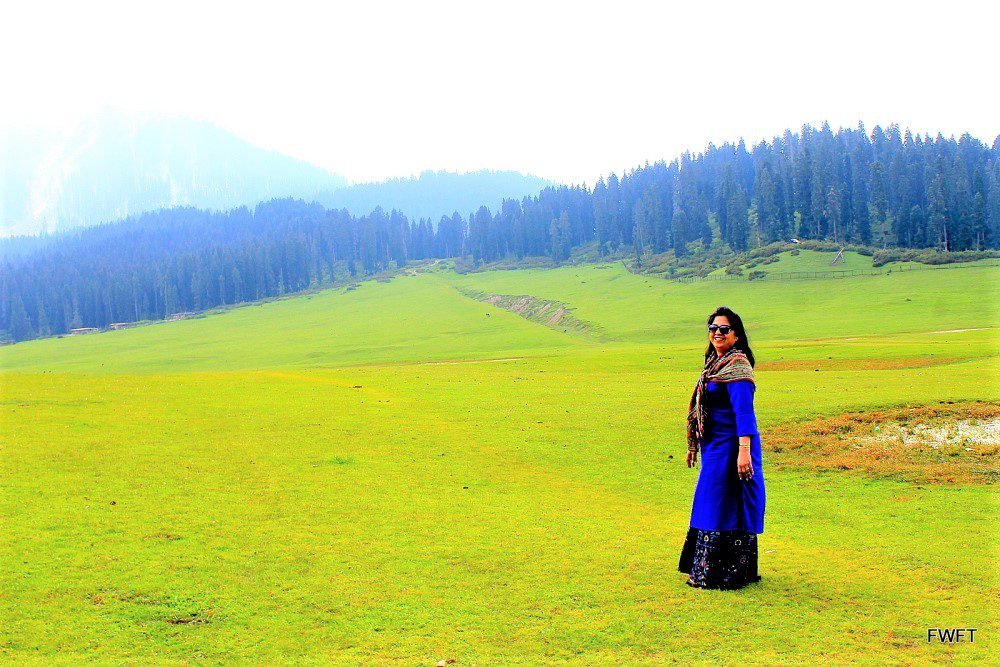 Finally, we turned a curve and when I first sighted the bowl-shaped valley that is Doodhpatri, I literally stared agape. Mere words cannot express what I saw; an endless emerald green meadow flanked by towering pine trees with the Pir Panjal ranges looming at the back. It was like a scene from a fairytale; horses and sheep were grazing at leisure and the undulating meadows in different shades of green were olive here, lemon there, chartreuse in the sun, mint on the trees. I was totally mesmerized and wanted to break into song a la Shammi Kapoor! It was like the dwellings of the Gods and the most entrancing sight of my life.
Legend of Doodhpathri|Travelogue on Kashmir|Doodhpathri #BlogchatterA2Z
As the legend goes the famous saint Sheikh ul Aalam Sheikh Noor din Noorani was in search of water in the meadows as he wanted to offer prayers, he pierced the ground with his stick for water but milk spurted out. He told the milk that it can be used only for drinking and not for ablutions. Hearing this the milk at once changed its state to water and this is how the meadow got its name Doodpathri. The water flowing down the rocks looks milky white from a distance and is very cold throughout the year. Doodhpathri is inaccessible during winter due to heavy snowfall so visit only before winter.
Perfect Spot for Picnics|Travelogue on Kashmir|Doodhpathri
Kids would love to frolic in the soft wide-open grassy meadows and it is an ideal spot for a picnic. Remember to carry food as there are not many hotels there. I had hurriedly made two aloo paranthas but the mountain air makes you really hungry and you need some good food. I had kahwa at a tea stall but there are very few cafes and if you have family and kids with you then pack some food and picnic in the meadows. There were many school kids and locals out on picnics and having a fun time playing in the emerald green meadows. A group of girls approached me and struck up a conversation and even posed for me. These spontaneous interactions are what I enjoyed during my trip to Kashmir.
Take a pony ride or just inhale the pristine air while watching the sky-high pine trees standing sentinel over the countryside. It is still not on the tourist map and there are hardly any bustling crowds.  You can sit on the grass or on the few sturdy benches placed strategically so that they blend with nature. I sat on the bench first and later lolled on the downy grass and wished I could lie there forever.
Doodhpathri- Milky White Stream
The stream was a little further and I moved reluctantly towards it. The way to the stream was a bit tricky and I had to balance on smooth round pebbles to get there. But the gushing sound of the milky waters racing down the hills was worth every stumble. I dangled my feet in the brook to check; it was icy cold and yet it felt good. I recalled the words of Alfred Lord Tennyson's poem The Brook-
I chatter, chatter, as I flow
To join the brimming river,
For men may come and men may go,
But I go on forever……..
Beyond the stream, there is a cave of the saint and you need to trek or go on horseback to reach there.
Kashmiri People
Even in this remote place, there were photographers charming visitors to don the traditional outfits and pose. Here they had lehenga cholis along with the Phiran. One of them approached me and kept asking me to get my pictures taken. I jokingly said," Bhaiya ab iss umar mai ye sab accha nahi lagta" and he cheekily replies, "Aap aisa matt bolo madam . Aap to Hema Malini se jawaan aur Sridevi se bhi khoobsurat dikhti ho"!! :O 
Another said that he had seen me before and when I said it was my first visit he said that he recognized me as he saw me on TV and respects my going incognito!  I was flabbergasted by their rhetoric and so amused that I burst out laughing. Seems like the magic in the air turns the Kashmiris into real charmers!
Dusk was about to fall and reluctantly headed back to Srinagar as it would be dark soon. The unspoiled air of Doodhpathri cast its spell on me and I swore I would be back to experience this heaven again. I was in love with Kashmir and the simple Kashmiri people.
If you liked this Travelogue on Kashmir|Doodhpathri then join me in Srinagar Srinagar Part 11
Tips to visit Doodhpathri
You can visit and back in Srinagar by evening
Hire an experienced driver and an SUV if possible
Pack water, drink and food
Start back early as the roads are serpentine
Dress in practical shoes and casual jeans
Take the horse ride to the cave
Take time to savour the virgin beauty
Talk to the locals.
Do check out all my blogs on this Paradise
Srinagar Travelogue, Kashmir Travel-Heaven on Earth, Travelogue on Kashmir-Doodhpathri