Kashmir Travel
Why do I like to travel? Travel turns me speechless first and later into a storyteller and a gourmand. I love travel stories as they string memories into cherished garlands. I like to travel not to escape from my life but so that life doesn't escape me. Routine can become a drag and monotony can kill your spirit and if you live alone like me then more reason to getaway. Travel (read new food) recharges my batteries and rejuvenates my flagging spirits. Kashmir Travel: Heaven on Earth or The Foodie Nirvana? Check out my complete Kashmir Travel guide from a viewpoint of a foodie.
Food Curator
To begin with, thanks to my daughter, Esha, I am getting to spend time with her and travel places because of her. Her work takes her to different places and I like going to visit her (check on how she has settled down actually)
Well, that was one part of the story! The other was I get to visit the best naturally beautiful travel destinations in India. Every travel of mine has to have a food story and I am going to share a pictorial food journey from my flight to and fro from Kashmir with the stops in between.
In-Flight Meal
Actually, I usually book my tickets on Air India and have always appreciated the food but this time my Kashmir Travel started with a real disaster. I love idly with chutney but this time it was doused in coconut oil instead of ghee which is healthy but not to my liking. I didn't even take a picture of the breakfast tray. Thankfully they redeemed themselves the next morning on my flight to Srinagar.


Delhi-Belly
I had a few hours to kill before my flight to Srinagar and I decided to explore. I went to Dilli Haat and noticed a crowd at the entrance but once I went in I saw that the gates were closed. People were just loitering around and eating spicy Momos and Jhalmuri. The momos I did taste but passed the Jhalmuri. Soon after it was late evening and I proceeded to Hauz Khas Village but unfortunately, the stores were closed for the day.
I spotted a Noodles bar and walked in. It was pretty early for dinner and there was just another person eating. The steward was chatty and asked me how I liked my noodles and served them just as I liked them. In the centre, they had a counter like Subway and you could choose the ingredients that went in and the chef tossed them up right in front of you. I tucked into the whole plate of noodles and washed them down with my favourite lemon iced tea. Later, with the check, I was given 3 tiny little pouches and I got all excited thinking they were fortune cookies but to my surprise, they were 3 different flavours of Bhujiya!! Bhujiya (a traditional Indian snack) in a noodle bar; talk of international fusion of food!
After eating the spicy noodles, I needed to soothe my gut and what better than to have some Dilli ki Kulfi but this place named Kulfiano, had different kulfi flavours and most of them were made with natural fruit pulp. I had never tasted Jamun or Black plum Kulfi. Surprisingly it was an unbelievably awesome colour and tasted divine.
Kashmiri Travel-Rajma-Chawal
Once I reached Srinagar airport, Esha, who was working asked me to pick up some Rajma-Chawal from Krishna Dhaba on the way. Reached home after an hour and in the excitement of seeing my daughter and sharing our stories, I forgot to click the Rajma chawal which was polished off and was steeped in Ghee! This reminded me that I need to don my apron and get down to some serious cooking. That too in a semi-functional kitchen!


Kitchen Capers
I made Pohe or puffed rice but I missed my curry leaves and there was no colander to wash the Pohe.  Nevertheless, it turned out just great and I was glad my daughter was getting some home-cooked to eat (maa ke haath ka khana actually!) The first couple of days I stayed at home just stocking the kitchen. I did go to buy some groceries and fruits. Cooking is easy but it becomes a challenge when you don't have the necessary ingredients or instruments. There was no rolling pin or board and I made roti with my bare hands.
Despite the semi-stocked kitchen, you may think cooking khichdi and tomato rasam is easy but there was no strainer to strain the tomatoes nor a muslin cloth. I had to innovate and used a clean cloth bag to strain the tomato pulp.
The next day we went shopping and got the rolling pin and then I made Gobhi and Methi Paratha. Aloo or potato sandwiches were made without a sandwich griller. I grilled them on the griddle and used the cooker to put some weight on them as there was nothing else. When we didn't have a griller when I was a kid, my mom used to overturn the rolling board on the sandwich. Believe me, they tasted so yummy. We used to call them Chakla sandwich so in comparison these should be known as Cooker sandwich, isn't it? Gobhi aloo is Esha's favourite vegetable and was easily available.
One of the reasons for me to visit Esha was her birthday which fell on 25th. I ordered a cake from a French bakery called La Delice and made Chicken Biryani. The biryani was cooked without any spices, yet it was polished off.

Kashmiri Tea Ceremony
After a couple of days, I walked into Chai Jaai, a cafe with a quaint old world charm which it retains through its interiors as well as crockery. I was alone but I spent a good two hours sipping Selim Hill Spring Darjeeling Green Tea.  The tea was served in a colourful porcelain tea set accompanied by a timer which had 2 settings of light, medium and strong. I ordered a Kashmiri bread called Sheermal which was available salty as well sweet. If you have time then you should just sit by the window and watch the people sailing or walking on the bund. Kahwa was being served in majestic metal Samovars.
Until now I hadn't tasted Kahwa, the Kashmiri tea, I had heard so much about. I went to taste it at Goodfellas, a charming cafe. It belongs to a young, enterprising painter friend and is a place for all the arty folks of Srinagar to gather.
Kashmiri Apples & Walnuts
Most certainly, a trip to Kashmir is incomplete without tasting the rosy apples fresh from the orchards. I have not been eating apples for the past few years. The apples we get here in the market are tasteless and dipped in wax. In Kashmir, I could pluck sweet, fresh juicy apples straight off the tree. For the first time, I saw huge walnut trees. The owners were very friendly and allowed me to pluck a few.I immediately peeled them and saw that they were a bit raw but the taste was good.
Dining out in Kashmir
To continue my food journey, I went to Winterfell Café the next day. The Interiors of the Cafe are designed on the Game of Thrones series and is a great place for youngsters to chill out. Iced tea, fries and veg sandwich was what I ordered. A couple of days later, Esha and I went to 14th Avenue, a great place to spend the evening. If you think that Kashmir is all about different pieces of bread and Wazwan then think again. We ordered bruschetta, fish and chips and a thin crust, wood fire roasted pizza for me.



More Kashmiri Food Stories
While I was exploring Kashmir, I would stop the car whenever I laid my eyes on grilled Indian corn.  Strangely, it was not roasted on coal but on blocks of wood. Few more of my food stories; for instance, the cinnamon doughnut from La Delice was quarter consumed before I remembered to click a picture. Kashmiris eat sticky rice and all this while I thought they were wheat eaters. I am a vegetarian and could not taste Wazwan, the elaborate non-vegetarian Kashmiri meal. On the last day, I had egg fried rice for late lunch when I was on the way back from Nara Nag, at a Punjabi restaurant.
Bizarre Food
Meanwhile, my visit to the Hazrat Bal Mosque was very interesting. There were numerous vendors selling all kinds of foods and bread in the street. There were gigantic parathas and Bhaturas, different kinds of chips and savouries. I asked permission to click pictures and was offered chips to taste. I  took a bite and almost puked. There were hairy fibres coming out of it and  I was told that it was lotus stem chips and that was how it tasted. The vendor very kindly gave me a potato fritter to overcome the utterly disgusting taste of the lotus stem chips.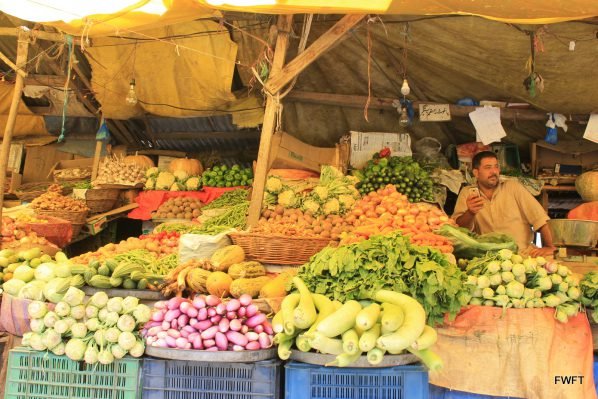 Normally, breakfast in Kashmir is Noon (salt) chai with Lavasa. It is a kind of bread available in the market along with many other varieties. The vegetable vendors in the market and the lakeside vendor selling lotus stems.

Gulshan Bookstore & Cafe
If you are visiting the Dal Lake then a visit to Gulshan Bookstore which is on the lake is a must. There is a reading room with a cafe and a stunning view. It is the only bookshop-library on a lake in India. What could be better than to sip an iced tea and read a book or watch the lake and the visitors?
To sum up; one vast country, one India but such diverse cuisines. For a south Indian like me, it took time to adjust to the diverse foods in Kashmir. By and large, a learning experience and I earned some brownie points for my food diary.
More on Kashmir